ok i need everything gone really dont want to part out ill just sell it cheap and quick.
i have 2 tippman a5's go for around 150 a piece but only one works the other i use for parts but the other could be fixed for $40.
comes with 1 hopper 2 aftermarket barrels one is a DYE boomstick and bipod which went for 130 itself back in the day and a progressive barrel
i have a cheaper war machine paintball gun which went for $60 that also comes with a progressive barrel and stock barrel.
2 pod packs with 8 pods.1 pack has vertical pods the other has horizontal pods.
a eggy electric hopper as well as a standard gravity feed hopper
two maskes
a steal tank that needs to be re tested for $25 at a fire station.
BASICALLY YOU CAN HAVE 2 PAINTBALL GUN SET UPS if you buy two $20 DOLLAR CO2 TANKS. I WOULD LIKE 150 FOR EVERYTHING OR 225 WITH A PAINTBALL BODY BAG.
EDIT:
o and one a5 has a 3 postition collapsable stock and a auto response trigger.
i also have a quck disconnect for a tank as well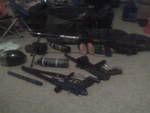 {title edited for clarity-sabalo}