Not all in the last 2 days, but I finally finished up the Remington 700 Project I've been slowly piecing together over the last couple years.
Previously posted:
------------------------
Remington 700 SPS in .308
Criterion Barrel 22" 1:10
Had barrel threaded for Muzzle device
Silencerco ASR Muzzlebrake/Suppressor mount.
Choate Stock
Pacific tool and Gauge Bottom Metal for detachable magazines
AICS / Magpul Mags
Timney Calvin Elite trigger
Sig Sauer TANGO 6 4-24x50 Scope
Pelican 1750 Rifle Case
Finished up over the holidays:
-----------------------------------------------
Sent out the Stainless Barrel, barrel nut, and recoil lug for Nitriding.
Seekins Precision 30 MOA scope mount
A scope ring lapping kit
34 MM Seekins Precision rings
Vortex Defender Flip Caps for eyepiece and objective
Purchased a plank of closed cell 2# PE foam for the Pelican case. ( Why do Pelican and other manufacturers put Open cell foam in rifle cases ? )
Built a Hotwire table to cut the foam.
Cut the foam for the rifle and accessories. with space for Rifle, Bolt, Magazines, ammo, Kestrel, Range Finder, and Suppressor. )
Very happy with the final outcome.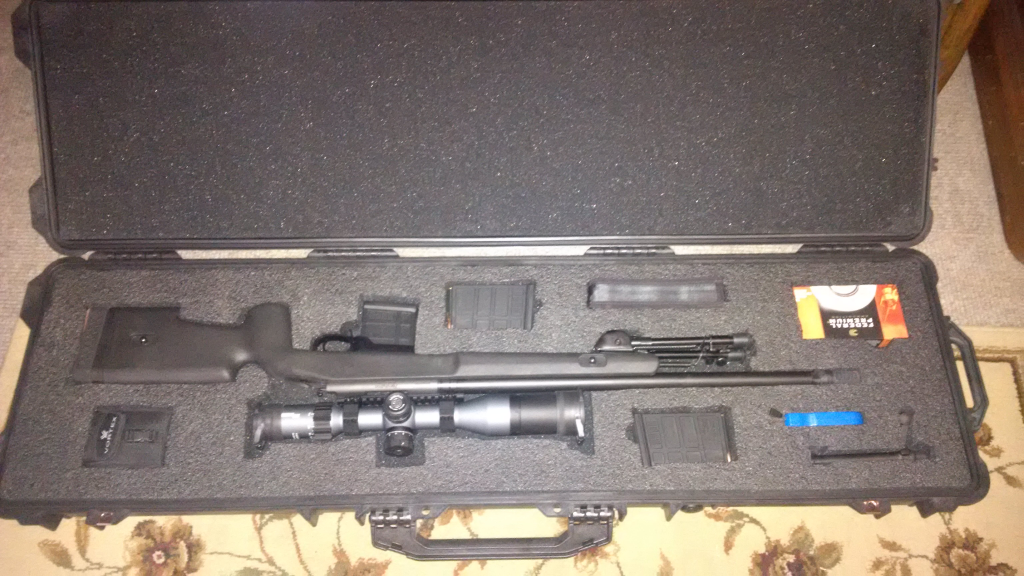 Now I'm trying to decide what to do with all the leftover parts. just short a receiver at this point to put the SPS back together.