AAR: One Life Defense: Defensive Gunfighting Pistol 1
Instructors: Varg and Katie Freeborn
http://www.onelifedefense.com/
https://www.facebook.com/onelifedefense/
April 3, 2016
10:00-18:00
Southington, Ohio - private range
Course description follows:
8 Hours

Learn modern gunfighting skills, marksmanship and true defensive shooting. Experience driven instruction by industry professionals. If you carry a weapon, formal instruction on realistic skills, techniques, procedures and mindset is a necessity. Begginers and experienced shooters are both welcome and will be equally challenged at your current level. No one is pushed beyond their capabilities, and no one is left behind. DGP1 is the introduction level course to our training system and will acclimate you to our training methods, safety requirements and facilities. Our private range is located in Southington, Ohio. You will receive an email with directions. Class begins 10am.

Level 1 training is where you will learn fundamental skills such as:

Advanced Firearms Safety
Grip and Stance
Marksmanship
Introduction to Use of Cover/Concealment
Introduction to CQB Concepts
Weapon Manipulation
Weapon Malfunction Clearing
Carrying a Loaded Weapon
Fighting Mindset
Legal requirements of Self-Defense


Setting -
A full class of 11 students (one is a current AI with OneLifeDefense, and also a fellow member here at OFCC) despite the cold weather - which included snow on the ground. Students came from a variety of backgrounds (only one had prior military training), spanning approx. 30 years in age and with a variety of physical builds. All students were male. Shooting background was highly varied, although most were either beginners or true-novices. The aforementioned US Army veteran was a Support Specialist (IIRC) and thus had very limited weapons training (with none on the pistol, in that context), and at least two others only had Varg's concealed-carry class on their shooting-CV/résumé. One student had a competition background. Three others (myself included) reported that they had previous training.
Weather for the day was forecast to be cold and partly sunny, with temperatures mainly in the 30s. It really didn't kick into the upper end of that forecast - nor did the sun come out - until about 17:00. A persistent breeze as well as an occasional burst of wet snow meant that exposed skin got pretty cold pretty quickly. Rain earlier in the week combined with a good coating of snow on the ground made for rather miserable conditions should the student have failed proper footwear selection, and it also caused two (almost three) vehicles to become stuck in the mud on the unimproved path heading into the range.
Surprising for a class at the novice/beginner level was the quality of firearms present: everyone brought fully serviceable handguns, and the vast majority had more than sufficient number of magazines to sustain them through entire evolutions. The quality of support gear (belts/holsters/magazine holders) varied a bit more, but even the worst was serviceable, and quite frankly, I was again surprised that the vast majority had good to excellent items. These factors led to a fast pace during the shooting drills, and should be something that the beginner students in attendance should have been very proud of! Only one student shot from concealment (
LegoGlock
; he has extensive experience with drawing from-concealment from countless other classes), the rest all used strong-side OWB setups with various accommodations made for the cold-weather gear. Firearms were the usual: Glocks (including one brave student who decided to shoot his carry G43), XD-platform handguns of varying sizes, and a Sig 320. With the exception of one, in .40 S&W, all pistols were chambered in 9x19.
Despite the below-freezing weather and the mud at our feet, there were only a few malfunctions noted throughout the day. One student suffered a FTE caused by limp-wristing when shooting from-retention, which Varg, of-course, took the time to make a teaching point. Late in the day, Varg's gun suffered a complete lock-up resulting from an attempt to feed a misformed cartridge. He again used it as a learning opportunity to give a few pointers about not only why the gun stopped as it did, but also to show everyone how to properly mortar the pistol. My 4.5-inch XDm9 (currently close to 48K rounds fired), suffered 3 FTFires, all reduced with Immediate Action. It remains unclear to me if the problem was ammo-induced (all are from a rather problematic batch of CCI Blazer Brass I purchased a few years ago and am just now finishing up), mud induced (I'd neglected to pack a water bottle to rinse out muddy magazines), or user-induced (lack of cleaning and/or possibility of excess lubricant having made its way inside the striker area: I'm usually decently careful with the latter, but I accidentally over-lubricated the night before the class and did not have the time to strip the striker area and clean it). [ ETA: I did disassemble the pistol's striker assembly a few days later for inspection and cleaning, which proved unremarkable in all aspects. A 5-hour class the week following during which approx. 375 rounds were expended (typically at high rates-of-fire), saw 1 FTFire, which was again isolated to the same batch of ammo. I finished up that problematic batch of Blazer Brass at the beginning of class; the remainder ~325 or so rounds that were from a different lot of CCI Blazer Brass saw no issues.
Classroom section -
After checking-in and signing waivers, students were gathered for the safety and med-evac brief - first by Katie immediately after completion of the paperwork and then again by Varg, who reinforced specifics before we started any active gun-work. Range-commands were set and clarified as well.
Throughout the day, both maintained a tight watch on safety, flagging students for clothing/holster interference issues and the inevitable "hand in front of the muzzle" re-holstering that many beginners suffer from, as well as reminding students to engage their holster's thumb-break/retention-straps, etc.
Varg's approach to starting this beginner-level class is very interesting, and is something that I had not experienced before. To begin the day, via our individual around-the-campfire introductions, he asked us to specify a "mission statement." Succinctly put: "Why are we here?" Varg's core belief is that our personal training goals should revolve around this mission statement that's unique to that individual.
This was truly exceptional, and really mentally set the tone for me for the rest of the class. For as many beginner-level classes as I've attended and repeated over the past 5+ years, I'd never been asked to formulate this, aloud. Even though I'd been a long-time proponent of a similar method of self-evaluation/guidance (i.e. Kyle Defoor's awesome "

How Good Is Good Enough?" Blog entries http://kyledefoor.tumblr.com/post/10509 ... ood-enough - that's part 1, you owe it to yourself to find and read part 2, too), Varg's demand and short lecture here really helped crystallize it for me. These golden-nuggets became a persistent theme throughout the rest of the day. Good stuff.
Effectively, this was the end of the non-gun portion of the class. We then started gun-work, with "the mission" hanging in the back of our minds.
Dry-fire -
Varg started the class by jumping directly into weapons manipulations, using cleared weapons/magazines and dummy rounds (provided) to work the fundamentals of stance, presentation, and grip, and to show the reduction of two specific malfunctions: the stovepipe and the double-feed. From there, he delved deeper into the marksmanship fundamentals, and concluded the dry-fire session with a very short discussion/demonstration of the sight package, and trigger path (press, follow-through, reset, prep).
This was again eye-opening for me. This was the first time I experienced an instructor build the fundamentals "backwards." I found quite surprisingly that this actually made sense, as in most classes novice/beginner students are often left in a bind when they experience the inevitable malfunctions that comes from hard-running an autoloading handgun. Varg's up-front teaching of malfunction reduction bypasses this problem.

I also appreciated Varg taking the time to explain to myself and another experienced shooter why our chosen method of stovepipe reduction (sweeping the brass) may not be as sure-fire as we thought and/or have experienced. I will definitely adopt Varg's method here, and frankly, it's also nice to know that no matter where the shooter comes in into a class, Varg will take the time to give everyone the individual attention that he deems appropriate.

Something important to note here is that for Varg, everything in his class is based of the need to FIGHT, physically. For example, with the stance, he favors an aggressive fighting stance as the platform upon which to build the orthogonal isosceles upper body presentation. This was a theme that would hold for the rest of the day.
Live-fire -
From there, we went into live-fire exercises.
To assess shooters, Varg started us off at ~13 yards and closed to 7 yards, shooting static at 6-inch circles without time-limit. Varg's range target setup of plywood panels nailed to a solid support structure (see picture above) - instead of the usual skeletal target stands - meant that we had steady targets to shoot at despite the breeze and gusts that plagued us for much of the day. After diagnostics, the shooting progression increased in demand with respect to both precision/accuracy as well as cadence as we worked 2-inch circles from ~2 yards.
I'm reasonably fast up-close, but I still struggle with consistency. In terms of absolute precision/accuracy, I still miss the mark, no pun intended.
This was quite apparent with the ~13-yard diagnostic. Varg set out to correct this issue for me, and while he proved successful, my ability to execute his fix remains somewhat elusive.

His fix? "Aggression." Aligning with his fighting theme, this aggression is both as superficial and tangible as the physical motions of accomplishing such (i.e. that aggressive fighting stance from which he wanted us to base our shooting from) and as deep and metaphysical as the mindset he espouses. A part of that latter is, quite simply, the ability to maintain the mental focus that fighting - for your life - requires. My grandmother, a transcendent woman in her generation/culture and who loved me perhaps more than anything and anyone else in this world, once honestly said to me that I lacked focus.
How true.
Single-target steel (full chest-size plates) and steel transitions were next. This was where Varg started to focus on the draw stroke.
Initially, this seemed counter-intuitive to me, to work on the draw so late. But again, after talking it through with Varg (and also now in-retrospect), this "backwards" method really does make sense, as it allows the shooter to arrive naturally at where a particular technique needs to come into play in order to achieve the necessary effect.
With the draw fresh in everyone's mind, we next went back to paper targets. This time, it was the OPOTA Practice Target (
http://www.letargets.com/content/opota- ... target.asp
).
Shooting from-retention was up first. Varg's retention shooting position is a variation of the classic point-shooting positions of "quarter-hip" and "half hip." Katie started this block with a quick introduction to the quarter/half-hip and body-indexing via dry-fire, and Varg hatched those ideas into his technique of shooting while in close proximity to the threat: not point-shooting, but rather, using one's body and that fighting stance as an index.
Again, the ideas of fighting and aggression were emphasized.

My default from-retention has always been with the gun rotated outwards, indexed by a flagged thumb at my pecs/nipple. My upper body position thus leaned away from the threat: the classic "Speed Rock." Varg pointed out that this stance inherently throws the shooter off-balance, and also that the gun can come into play much faster if it does not need to be indexed that high (note that this is

not

to suggest that there will never be an instance where "sucking the gun back into the body" - or the Speed Rock, for that matter, may be necessary). Essentially, whip the gun out to that quarter/half-hip while taking advantage of the very natural response of blading the body in anticipation for a close-in physical fight.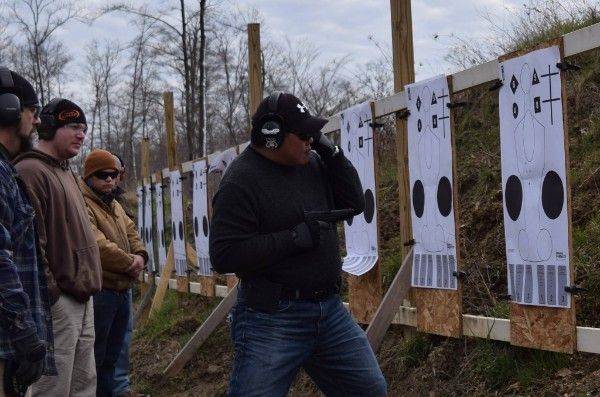 I've never been even remotely decent at non-sighted shooting (and yes, at some point, I really want to learn how truly, by-Hoyle, point-shoot; I've previously made arrangements with a well-known local practitioner of the art, but our schedules have inevitably fallen apart, and that's my fault as much as anything's), and this is the first time that I actually not only felt good about doing it, but also saw reasonable shots print from my efforts. I've studied various martial-arts on-and-off for many years, now, and I'm invariably "that guy" that needs more help.
I'm unathletic at best and uncoordinated at worst, and I've gotta give Katie and Varg a lot of credit here in that they're able to (reasonably
) successfully transfer to me this particular skill, especially in such a short time window.

As with the stovepipe reduction method that Varg taught, this will also become part of my standard repertoire.
The refined number/shape targets at the top of the OPOTA Practice template were then put into play at short range (~2 yards) to work on cadence, precision, and accuracy, and from there, we went to a man-on-man (pairings according to skill level) steel A-zone dueling contest for fun. This high-adrenaline rush was juxtaposed with our final live-fire task, an outgoing evaluation of what we'd learned, using the large black circles at the bottom of the OPOTA Practice templates in a walk-back, along with two shots in the 5" hip circle at ~15 yards.
I peaked at the short-range OPOTA Practice template. I'd finally figured out how to channel that aggression, and the focus paid off with shot-on-top-of-shot rapid-fire strings. Sadly, by the time we went back to the final walk-back, my focus had dissipated. I tossed a shot outside the large black circle in the first drill of that evolution, and then again as the progression went on. And embarrassingly, neither of my shots at the 5" circle printed inside its bounds. At 15 yards, I *know* from previous experience that I am capable of that performance: I'd just reached my mental failure point.
To complete the day, Varg then presented us with the two "Introduction to..." points of his class syllabus.
Varg gave a concise demonstration of the concepts of cover versus concealment as well as the use of cover, and from there, seamlessly segued into his presentation of CQB-concepts/home-defense. Varg used the context of home-defense to highlight basic close-quarters considerations, and also used the same context to examine considerations for cover as well as angles. We did not go live-fire for this portion: Varg's intent with the "introduction" as set out in his syllabus is simply to start the novice/beginner shooter thinking in this direction: to plant a seed which he and Katie will cultivate through subsequent coursework.
Overall, this class was set at an easy pace in terns of live-shooting. There was plenty of - but nowhere near excessive - down time for students to attend to stacking rounds as well as any personal needs (which were made considerably worse by the weather conditions we encountered), and each range evolution, be it dry or live-fire, was punctuated with relevant lectures on mindset.
I think that this relaxed pace is of great benefit to the novice/beginner shooters for whom this class is designed. Almost to-the-day 5 years ago, I started in a class which was considerably faster-paced, and found early on that I was struggling to keep up despite already having prepped myself with countless hours and rounds spent at the range to work on my marksmanship and manipulations as well as having viewed the Magpul handgun DVD several times. With Varg's pacing, there shouldn't be that "sipping from the firehose" feeling of being overwhelmed, and I really think that this is why the classes' shooters saw such dramatic improvement over the course of the day. The two newest and least experienced shooters, in-particular, saw tremendous improvement in their marksmanship and manipulations, and I really believe that both Varg and Katie should be commended not only for the advancement of those two students, but also for being able to work with such a wide distribution of shooters in their class.
The mindset lectures are an area which I think Varg's curriculum truly excels. As I alluded to before, this is something that I'd never experienced. Looking back, I think that too often "mindset" is written on the class syllabus just because it's something that we think should be there, but doesn't get the attention it deserves as everyone just want to shoot. Varg touched on everything from legal expectations and repercussions to giving us insights into his violent upbringing that made the range evolutions come alive.
Yes, it's important for a live-fire class to have a decent amount of shooting. And yes, at some point, mindset needs to break off into its own (articles like this -
http://onelifedefense.com/blog/i-dont-n ... ure-drunk/
- are the reason why I want to attend Varg's mindset sessions, if only my stupid schedule will align!). But for a beginner class to have too much of the former and too little of the latter is, I think, an inherent imbalance.
The harmony that Varg's achieved here will be something that I will measure all other beginner-level courses from now on.
Finally, One Life Defense's FAQ (
http://onelifedefense.com/faq/
) notes that it is highly recommended that no student try to place-out of their introductory level classes, regardless of the student's background or previous training. I truly believe that their reasoning is valid.
In terms of constructive criticism, this excellent class really only had one shortcoming by my view:
I felt that the intake procedure could be improved by gathering everyone at the beginning for a group down-loading of any hot (i.e. concealed carry) weapons. Even though the e-mailed check-in instructions for the class mentioned that we would start the class with unloaded and cleared weapons before we arrived at the range, several of us were left wondering exactly when/where we should clear our carry weapons, as no such instructions were given at the initial meet-up nor upon our arrival at the range. Upon being asked to gear-up, I definitely noticed the distinctive sounds of weapons clearing going on at the staging area: myself, I swapped my carry holster/gun combo en-masse for my empty range holster, and left my chamber-flagged range gun in my ammo box. Looking around, I saw that everyone was being mindful of safety, but still, being a stickler for rules, it left me feeling like I'd done something that was verboten.
Also, while I understand the extra measure of safety that was derived from having students (particularly novices) clear weapons at the line and holstering only cleared guns, my personal feeling is that as this is a tightly controlled class atmosphere, there is value-added in having novice students who may not be comfortable carrying a hot weapon being asked to do so in a regimented and safe manner. Double that as a "gunfighting" course: to get into the habit of never holstering an unloaded weapon.
The one counterpoint is that I certainly will admit to (and plan to improve) my shortcomings in being mindful of the status of the weapon as based on these frequent make-cold/ready exercises. At home, I status my weapons upon accessing/handling them, and it's a standing rule that defensive weapons are stored hot: even with my EDC, it's simply removed from my waistline, en-mass with its holster, and stored in the quick-access safe for my next outing. While my belief is that there is both more value and more safety to be had in running a strict "hot range" in a class setting I do nevertheless understand the teaching points to be had by the mixed cold/hot method to teach newer (and reminding more experienced) shooters to be mindful of the status of their weapon. I can see both shortcomings and benefits, both sides of the coin.
I also wished there would also have been a group re-arm at the end of the class.